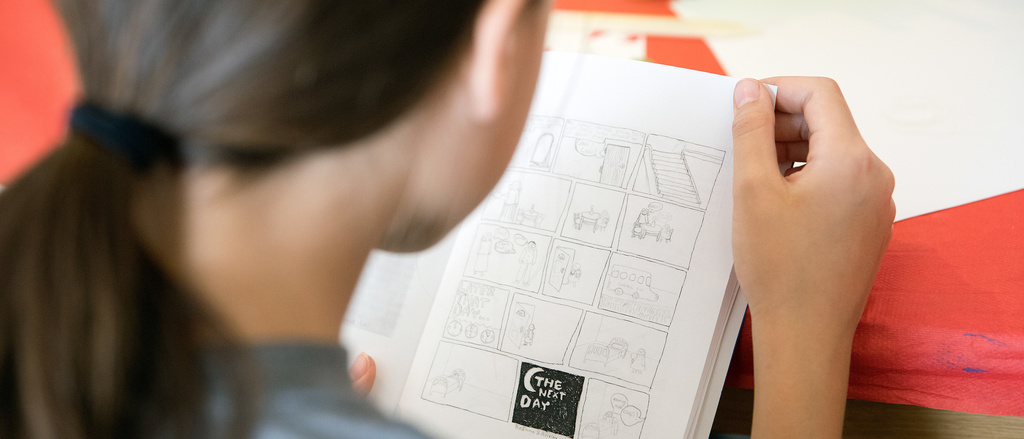 The Iowa Youth Writing Project (IYWP) is an arts outreach organization based at the University of Iowa that empowers, inspires, and engages K-12 youth throughout the state using language arts and creative thinking.
We provide one-of-a-kind writing, publishing, and creative learning opportunities to Iowa's children and teens.
To ensure that all young people can participate, the IYWP provides programs at little or no cost, thanks to the time, energy, and creativity of IYWP volunteers, partnerships with local organizations and institutions, and the generosity of community members.
IYWP Goals and Objectives
To foster imagination and the arts of creative writing and communication for children and teens
To inspire children and teens toward a lifelong appreciation of the writing arts
To create events, workshops, and other avenues for children and teens to work with nationally recognized and professional writers
To serve as a resource for student writing and publishing
In July 2012, the Magid Center for Undergraduate Writing in the University of Iowa College of Liberal Arts & Sciences was granted a Better Futures for Iowans award, launching a pilot partnership with the IYWP to build and deepen undergraduate student success in writing-related internships and to develop youth outreach efforts. 
Since then, the IYWP has found a permanent home in the Magid Center, nestled among other high-quality interdisciplinary writing opportunities for UI undergraduates. Every year, we visit 20+ schools and community centers to run weekly writing workshops, hold special events with visiting writers, and offer a host of creative (and free!) literary summer camps. None of this could be accomplished without our incredible staff, our dedicated volunteers, our talented interns, and our generous-beyond-belief donors. As we continue to grow and deepen our work, we are immensely grateful to all who helped—and continue to help—us provide innovative and high-caliber literary arts programming to K-12 youth throughout the state. Onward to another wonderful year!